Key Takeaways:
Extreme heat is often identified as the most significant cause of premature death attributed to climate change.
Peer reviewed research, informed by real-world data, clearly shows deaths associated with cold temperatures significantly outnumber heat related deaths by almost 10 to 1.
The same research shows that deaths associated with extreme temperatures have declined significantly during the recent period of modest warming.
Short Summary:

A 2021 study published in the prestigious medical journal The Lancet reported that cold temperatures contribute to far more deaths each year than warmer temperatures and that temperature related deaths are declining globally.1
The study reports that the number of deaths associated with cold temperatures decreased by more than double the amount that deaths tied to hotter temperatures increased over the 20 year period of the study.
The study is arguably the largest of its kind studying the issue of the temperature related deaths. Sixty-eight scientists representing universities and research institutes in 33 countries spanning all regions of the world contributed to the study. Their research found that as the earth has modestly warmed, deaths caused by "non-optimal" hot and cold temperatures have declined dramatically. As a percentage of overall deaths annually, almost 600,000 people die globally from heat, compared to 4.5 million from cold.
Monash University's press release announcing the study stated, "[i]mportantly, cold-related death decreased 0.51 per cent from 2000 to 2019, while heat-related death increased 0.21 per cent, leading to a reduction in net mortality due to cold and hot temperatures."2 (See Figure 1, below)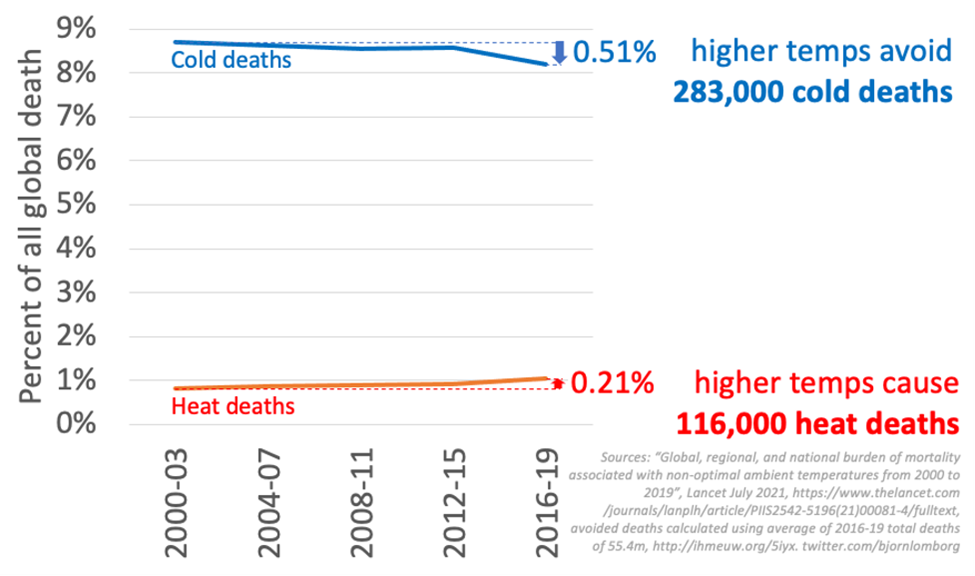 Another critical finding of The Lancet study is thatcold related deaths outnumber heat related deaths 10 to 1. (See the table below)


| | |
| --- | --- |
| COLD RELATED DEATHS BY REGION | HEAT RELATED DEATHS BY REGION |
|   |   |
|  Africa 1.18 million |  Africa 25,550 |
|  Asia 2.4 million |  Asia 224,000 |
|  Europe 657,000 |  Europe 178,700 |
|  South America 116,000 |  South America 25,250 |
|  UK 44,600 |  UK 8000 |
|  US 154,800 |  US 18,750 |
|  China 967,000 |  China 71,300 |
|  India 655,400 |  India 83,700 |
|  Australia 14,200 |  Australia 2300 |
|   |   |
| Total: 6,189,000 | Total: 637,550 |
Table 1. Total global cold related deaths vs. heat related deaths by region from 2000 to 2019. Data source: Monash University press release.

In part as a result the decline in cold temperatures, over the period of the study, temperature-related mortality has declined significantly, with a total of 166,000 fewer deaths tied to non-optimal temperatures.
This study confirms what research previously published in The Lancet, the Southern Medical Journal, and the Centers for Disease Control, and National Health Statistics Reports has consistently shown: Cold is the biggest temperature related killer, not heat.4,5,6
These studies also indicate the slight warming we've seen over the past century has reduced overall mortality related to extreme temperatures. This positive trend should continue if the earth continues to warm modestly.
---

References: