View this page in our printable booklet (PDF) here:
https://www.heartland.org/_template-assets/documents/Books/CaaG-2022.pdf
Key Takeaways:
The Great Lakes are benefiting from record-high water levels just a few years after climate activists claimed global warming cause water levels to drop.
Water levels have been above normal since 2014.
Many activists now claim global warming causes high water levels, but they have already claimed global warming causes low water levels, calling into question activists' assertion that the science is "settled" on climate change and its consequences.
Any attempts to claim global warming causes water-level volatility are also contradicted by scientific evidence and the historical record. For example, water levels were more volatile in the late 1920s and the 1960s than they are today.
Short Summary:
In the early 2010s, during a brief low period for the water levels of the Great Lakes, climate activists repeatedly asserted low water levels were creating a crisis, climate change was to blame for the lower levels, and that water levels would keep falling in the future. For example, Think Progress in 2013 claimed, "Several different climate models for the Great Lakes region all predict that lake levels will decline over the next century."1
However, since Think Progress and others made these dire claims, Great Lakes water marks have reached their highest recorded levels, as shown in Figure 1. Further, the Great Lakes have sustained abundant, above average water levels since 2014.2
Figure 1. Great Lakes Water Levels (1918–2023)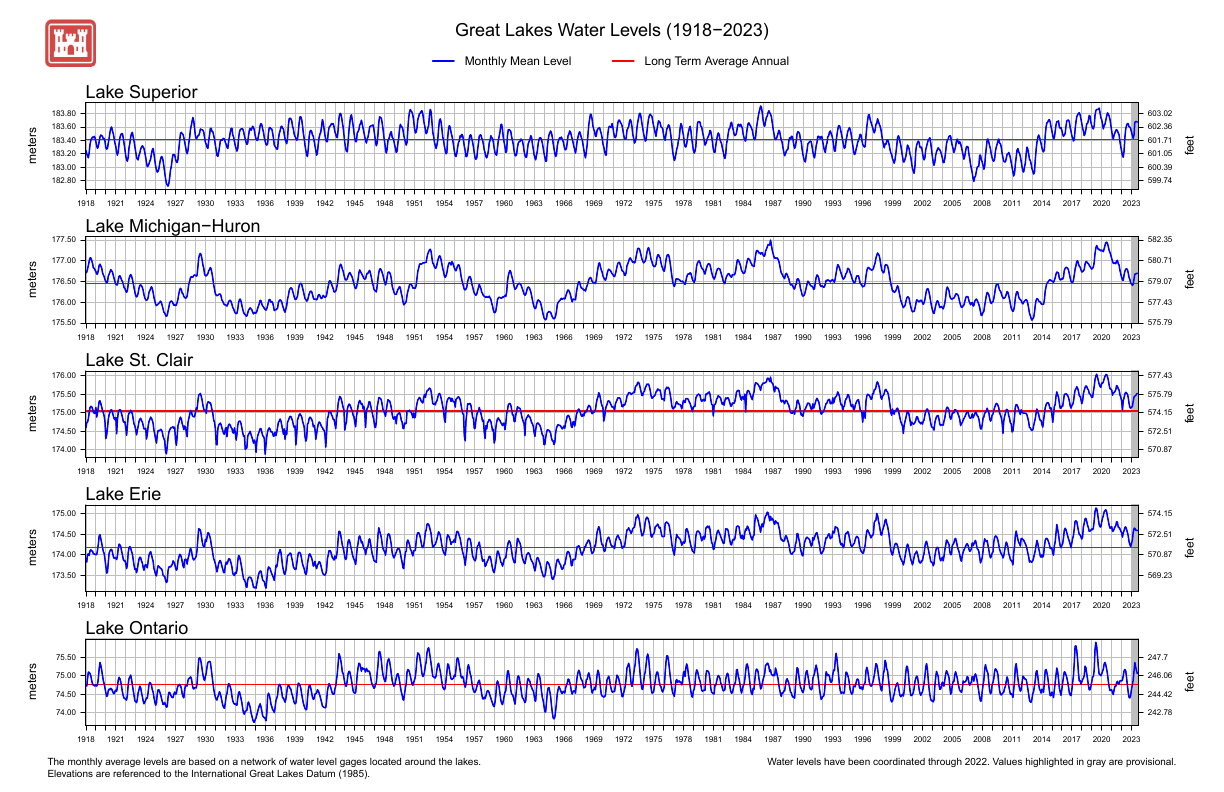 In a complete reversal of their previous predictions and warnings, climate activists now claim the high water levels of the Great Lakes are creating a new crisis and that climate change is the cause.3 Moreover, many have argued that the relative instability of the Great Lakes water levels, which some say is also the result of climate change, is extremely problematic.4 However, both claims are contradicted by the available scientific evidence and climate activists' prior claims.
High, low, and variable water levels are a longstanding component of the history of the Great Lakes, and as shown in Figure 1, water levels were more volatile in the late 1920s and 1960s than they are today.
---
References:
---
Climate At A Glance is a Project of The Heartland Institute
Email: think@heartland.org