View this page in our printable booklet (PDF) here:
https://www.heartland.org/_template-assets/documents/Books/CaaG-2022.pdf
Key Takeaways:
Lake Tahoe has reached the maximum allowable water level during 2017-2019, requiring special water releases into the Truckee River.
The 2015-16 northern California drought was very brief and followed by three consecutive years of abundant precipitation and maximum allowable Lake Tahoe water level.
Activists claiming the 2015-16 drought signaled a "new normal" of drought and low water levels caused by climate change have been embarrassed and proven wrong.
Short Summary:
In 2015 and 2016, climate activists frequently asserted that the 2015–16 California drought, as well as the low water levels at Lake Tahoe allegedly tied to that drought, signaled a "new normal."1, 2 Since then, however, Lake Tahoe's water level reached its maximum allowable limit of nine feet above gage height (6,229 feet elevation) in 2017, 2018, and 2019, requiring special water releases into the Truckee River.3 (This
is shown clearly in Figure 1.)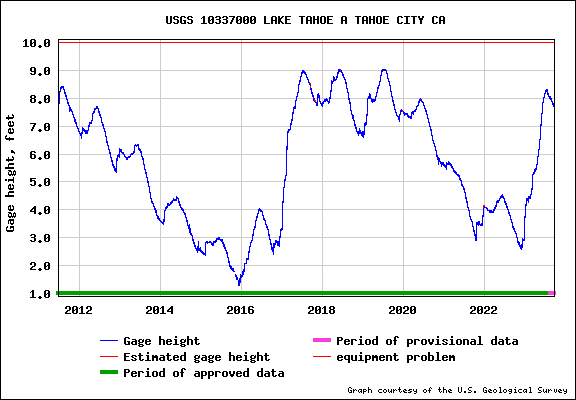 ---
References:
---
Climate At A Glance is a Project of The Heartland Institute
Email: think@heartland.org